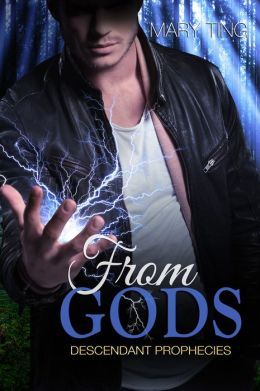 Synopsis:
"Did you just see a flash of lightning across the sky on a clear sunny day? It's not from Mother Nature. It is most likely from Mason Grand, swoon-worthy demigod, one of Zeus's descendants.
Skylar Rome is supposed to be having the best summer ever before she heads off to college. Little did she know, her whole life was about to change while visiting her cousin. Nearly drowning at the beach due to unknown forces, one of the Grand brothers she'd just met, Mason, saves her life. Cool, collected, mysterious, and dangerously good-looking, Skylar is drawn to him from the start. Though she knows he is the type of guy good girls stayed away from, it seems he is always saving her life, and the attraction was inevitable.
Upon meeting the brothers, strange things begin to happen. When she accidentally kills one of the brothers, it throws her life into turmoil, as they search to find the answers. Implausibly, she gets caught up in a world of the decedents of ancient gods, all who have super powers. Not only is her discovery difficult to accept, evil beings are after her. Running out of time and running for her life, she must unravel a mystery. What do they want from her? Forced into a battle set into motion long before she was born, will she find the answers, or will she die trying?"
REVIEW
Ever since The Covenant series by Jennifer L. Armentrout, I've loved the whole gods mythology thing. I just think the world of dysfunctional gods is funny and intriguing, and so now I actively look for the genre. And it came as no surprise when I came across "From Gods" on my recommended page on Amazon.
From Gods is about Skylar Rome, a recent high school graduate who's staying with her aunt and cousin for the summer. Since her aunt is short staffed at her diner, Skylar and her cousin offer to help out. On her first day, the Grand brothers come in and Skylar can tell right away that something isn't right about them. Not only that, but she's more than positive that the youngest Grand brother was the cop that pulled her over the day before for seemingly no reason. When curious events start happening that threaten Skylar's life on more than one occasion, she starts questioning herself and her family ancestry. And though he's always there to save her, Mason seems to absolutely despise Skylar. The questions soon get answers in "From Gods."
I thought this book was an interesting take on Greek mythology. Every author seems to spin in it in a different way, and I liked Ms. Ting's version. Being well rounded, thought out, and having good plot twists made this an enjoyable read for me. I like being surprised, and figuring out who Skylar was was a fun mystery to unravel. I thought Skylar herself was a relatable and fun character who took the whole Greek gods thing in a very real way: fearful. If I was her, I'd probably freak out and then run for the hills. But she's the kind of girl that's wants answers and will get them, no matter how harsh the reality.
Then we have the Grand brothers. Seemingly mysterious with their model good looks and lack of parents. But their obvious wealth just adds to their charm. From the beginning I liked Nick, the second to youngest brother of the four. I thought he was fun  and lightened up the story when things were getting a bit dismal. Now Mason on the other hand took some getting used to. I wasn't a fan of his wishy washy personality or his rudeness towards Skylar. It seemed like he'd want her one second and then one page later he'd talk himself out of it. This cycle happened at least six times in the book. Skylar also talked herself into thinking he liked her more than just a, well whatever they were to each other, friend isn't the right word, to then just up and dismiss the idea because of one of Mace's rude gestures. I can get maybe doing the "does he like me?" thing once or twice. But SIX TIMES on both of their parts? That was getting a bit annoying to be honest. Another thing I wasn't crazy about was Remus and Everett, the oldest of the Grand brothers. Just…eh. Not a fan AT ALL. If you read it you'll understand.
My final pet peeve was the end of the book. More specifically, the last ten pages or so. The whole book Mason is closed off and emotionally unavailable, and then all of a sudden he's saying stuff and basically pouring out his heart about whatever and it just doesn't work. The disconnect was too much and I thought some of it was just the biggest ball of cheese I've ever read. But then again I'm a girl that likes a bit of reality, even if the book is a work of fiction. It's not like you'd be saying half the crap Mason did towards the end in real life. Heck, it didn't even make any sense for him to say it in the book. But, whatever. Just my view.
From Gods by Mary Ting = 3.5 stars