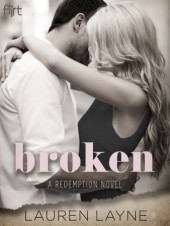 Synopsis:
When Olivia Middleton abandons the glamour of Park Avenue for a remote, coastal town in Maine, everyone assumes she's being the kind do-gooder she's always been. But Olivia has a secret: helping an injured war veteran reenter society isn't about charity—it's about penance. Only, Olivia's client isn't the grateful elderly man she's expecting. Instead, he's a brooding twenty-four-year-old who has no intention of being Olivia's path to redemption . . . and whose smoldering gaze and forbidden touch might be her undoing.
Paul Langdon doesn't need a mirror to show him he's no longer the hotshot quarterback he was before the war. He knows he's ugly—inside and out. He'll do anything to stay in self-imposed exile, even accept his father's ultimatum that Paul tolerate the newest caretaker for three months or lose his inheritance. But Paul doesn't count on the beautiful twenty-two-year-old who makes him long for things that he can never have. And the more she slips past his defenses, the more keeping his distance is impossible.
Now Paul and Olivia have to decide: Will they help each other heal? Or are they forever broken?
REVIEW
I read the first book in this series (Isn't She Lovely) and absolutely loved it. So naturally I was inclined to pick up the second book. And let me tell you…this one did NOT disappoint! I loved the snarkiness between Paul and Olivia. It was fun and kept you on the edge of your seat. I also liked how she treated him differently than the rest of the previous care takers. It was a refreshing twist on a wounded hero and a lost heroine.
4.5 STARS
Synopsis:
'It's going to take a fight, I know that. But it's more than just a fight for my life. It's a fight for my soul and my soul mate.'
Jazzy Williams is not your average coffee-loving teen. She's struggling with her grief, her famous uncle's fans, an overprotective big brother, and a depressed mother, all while trying to make friends at her new school. In the first week, she meets a gorgeous green-eyed hottie who turns out to be more than just some high school crush – he's more than human. And she unknowingly enrages a very dangerous breed of immortal who wants her soul or life as payment. With the help of supernatural friends and protectors, Jazzy thinks she's safe until what remains of her family is put in danger. Does Jazzy have what it takes to save her family, life, soul and soul mate, or will all be lost?
*Warning* Mature Content. This contains some profanity, mild sexual situations, innuendoes, and violence. Recommended for ages 16 and up, depending on maturity level.
REVIEW
I had been in the mood for a good paranormal romance when I picked this one up, and I'm so glad I did. Because the paranormal aspect of this book was GREAT. And I have to say that was probably the crowning jewel of it too. There were so many new paranormal creatures introduced to me that I found myself captivated by the intricacy of it all. The author created a very believable world and I loved the relationships in the story. The main characters were great, but also the secondary. Over all a fantastic read.
5 STARS