So, Day 2! Like I said in my last post, today was more editing, and I managed to finish reading "A Little Bit Haunted", bringing my total up to 13 of 15 books read for 2018.  Now I'm on "Compromising Kessen" by Rachel Van Dyken, pictured below.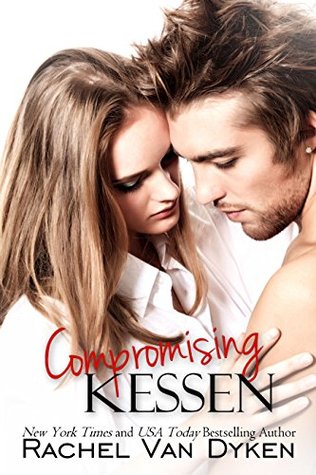 BTW, can someone tell me if the man on the cover is wearing a PEARL earring? Or am I continuing to go blind? Either way, I got a laugh out of it.
Anyway…after I got my daily reading in as well as my editing session, I did as I said I would and jotted down some more details for a book idea I've been messing with. I don't want to elaborate too much on it since it's still in the beginning stages, but let's just say there's an MMA aspect to it as well as a feisty heroine, which is always fun to write. Of course, some things need to be blurred because, hello, this brilliance isn't free 😉 #Kidding
Also, I thought it was nice of Chloe to photobomb us all in the corner there. You know, the white blob of fur that could easily get mistaken for a fluffy pillow/and or a marshmallow.
After writing down three pages of notes and getting some nasty finger cramping, I then proceeded to cook dinner, do laundry, and clean dishes. Now here I am, typing this up as I stare longingly at my diet Coke sitting next to me, which as we all know is the true fuel of writers.
So, with that said, I'm going to go and enjoy my evening now (and my precious Coke lol). I hope you all do the same!
#DailyBloggingChallenge