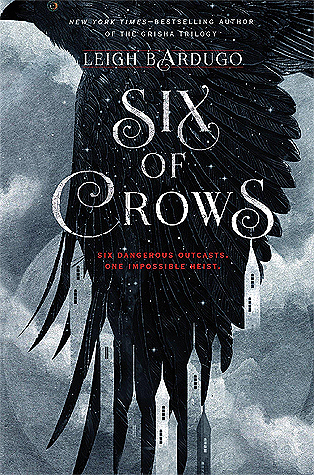 Synopsis:
Criminal prodigy Kaz Brekker has been offered wealth beyond his wildest dreams. But to claim it, he'll have to pull off a seemingly impossible heist:

Break into the notorious Ice Court
(a military stronghold that has never been breached)

Retrieve a hostage
(who could unleash magical havoc on the world)

Survive long enough to collect his reward
(and spend it)

Kaz needs a crew desperate enough to take on this suicide mission and dangerous enough to get the job done – and he knows exactly who: six of the deadliest outcasts the city has to offer. Together, they just might be unstoppable – if they don't kill each other first.
REVIEW
Holy crap, I haven't read something this good since…jeez, I'm going to say the Sweet Evil series. And I read that a LONG time ago. There was something special about this book. I don't know if it was the characters and their multiple POVs, the world building, or just the irony of all these misplaced teenagers coming together to pull off the impossible. It was a really fun and entertaining read for me, and I'm kicking myself right now for not having picked it up sooner!
You have a kid from privilege, an ex-soldier, a prison inmate, a girl who makes no sound, a sharpshooter with a gambling problem, and the mastermind criminal. Alone they're not much to fear. But together, they're the only crew that has a shot at pulling off the most important ( and INSANE ) heist anyone will ever face. With a little humor, a smidgen of romance, and a lot of danger, "Six of Crows" was a seriously heart pounding read at times, and I absolutely loved it. Each character had their own back story, a personal reason for going through with such a risky task. And I was amazed at the details the author gave them, the descriptions she built, the world building… It's astounding to me that this was created in someone's mind and not a retelling of an actual historical event. Though I will admit that at times it was a little too detailed, and I couldn't properly pronounce maybe half the names of the towns/villages/countries etc. But other than that this was a flawless story, and I highly recommend it to anyone who loves high fantasy. And suspense. And subtle romance. And… screw it. EVERYBODY READ THIS YOU WILL LOVE IT.
Six of Crows by Leigh Bardugo – 4.5 Barrel stars