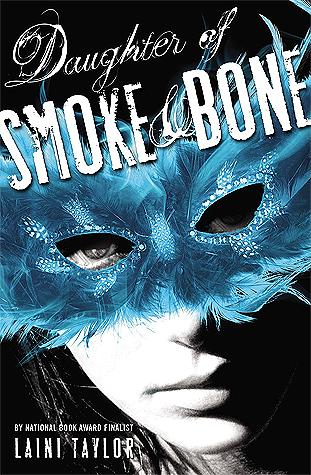 REVIEW
Boy, it's been a long time since I've read an angel themed romance. But it doesn't feel right to put that label on "Daughter of Smoke and Bone". It was more a demon vs. angel thing, and yet both sides were neither all good or all bad. It was a weird toss up, one that had me constantly guessing.
I'm going to be honest, this thing had me confused until about half-way through. I felt like the author didn't leave us enough bread crumbs to figure out Karou's story on our own. It all kind of hit at once, near the end, and I was left slightly dumbfounded and a tad overwhelmed. Not to say I wasn't drawn in by the beautiful world building and the immaculate descriptions of Prague and every other place mentioned in this book, but I'll admit: I was kind of hoping for more. I don't know. I feel like I'm going to get some backlash from this one because everyone kept telling me how much they loved it. And that was one of the main reasons I bought it in the first place. I guess you could say it was an alright read, but not one of my favorites, sadly. I was really hoping to fall in love with this one. I keep looking for my next ride or die series, kind of like how I felt with The Infernal Devices trilogy by Cassandra Clare. I want the characters to suck me, make me think of them well after I've put the book down. Who knows, maybe I'm asking too much. But I'll keep looking for it anyway 😉
In a nut shell, I wasn't hugely fond of the characters but I was really impressed with the writing style of this author. Everything was described so well – places, smells, feeling. It was beautifully constructed to create this fantastical world of chimaera and angels. In that I give it a lot of props. But unfortunately, I don't see myself picking up the second book. Overall, though, this was an interesting and different read for me.
Daughter of Smoke and Bone by Laini Taylor = 3 stars