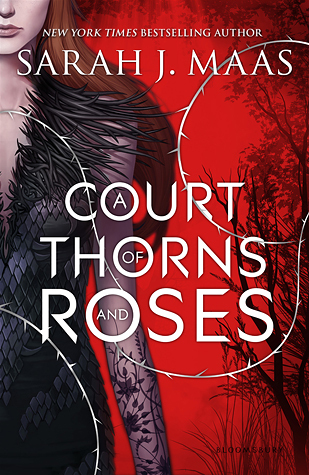 Synopsis:
A thrilling, seductive new series from New York Times bestselling author Sarah J. Maas, blending Beauty and the Beast with faerie lore.
When nineteen-year-old huntress Feyre kills a wolf in the woods, a beast-like creature arrives to demand retribution for it. Dragged to a treacherous magical land she only knows about from legends, Feyre discovers that her captor is not an animal, but Tamlin—one of the lethal, immortal faeries who once ruled their world.
As she dwells on his estate, her feelings for Tamlin transform from icy hostility into a fiery passion that burns through every lie and warning she's been told about the beautiful, dangerous world of the Fae. But an ancient, wicked shadow grows over the faerie lands, and Feyre must find a way to stop it… or doom Tamlin—and his world—forever.
Perfect for fans of Kristin Cashore and George R. R. Martin, this first book in a sexy and action-packed new series is impossible to put down
REVIEW
So I finally, FINALLY finished this thing. I got some time yesterday to sit down and devour the last 30%, and I'm so glad I did. Because for one, this was a beautiful read from a writer's point of view. The details Sarah creates with her words is truly amazing, making the world building in this exquisite. I felt like I was there, living in a faerie court alongside Feyre. For me that made this a class-A read in itself.
From a creative POV, I was really impressed with the originality of the story. It's not easy to weave a tale about the Fey that readers haven't already seen before. I thought the author did a fantastic job keeping you guessing about where the journey was going to take us.
On a less amazing note, I did feel like in the middle of the story things got a little slow, and I kind of lost interest for a few chapters. Also, Feyre made some pretty stupid decisions, and ignored quite a few peoples' advice, putting her in situations I felt she was smart enough to stay out of in the first place. Of course I know that the author has to add some conflict to make things interesting and make the story move along, but I felt like some of the things Feyre got herself into were kind of stupid, and she could act rather childish at times.
To sum it all up, I was happy with the story and its outcome. I think the sequel will be interesting to read, if only to see how life after the big ending comes about. Fans of faeries and tales of the mischievous Fey are sure to be pleased if they pick up this read.
A COURT OF THORNS AND ROSES BY SARAH J. MAAS = 4 STARS
AUTHOR INFO
Sarah J. Maas is the New York Times and USA Today bestselling author of the Throne of Glass series (Queen of Shadows, Book 4, will be out in September 2015), as well as the A Court of Thorns and Roses series (out 5/5/15).
Sarah lives in Bucks County, PA, and over the years, she has developed an unhealthy appreciation for Disney movies and bad pop music. She adores fairy tales and ballet, drinks too much tea, and watches an ungodly amount of TV. When she's not busy writing, she can be found exploring the historic and beautiful Pennsylvania countryside with her husband and canine companion.
WEBSITE: http://sarahjmaas.com/
TWITTER: @SJMaas